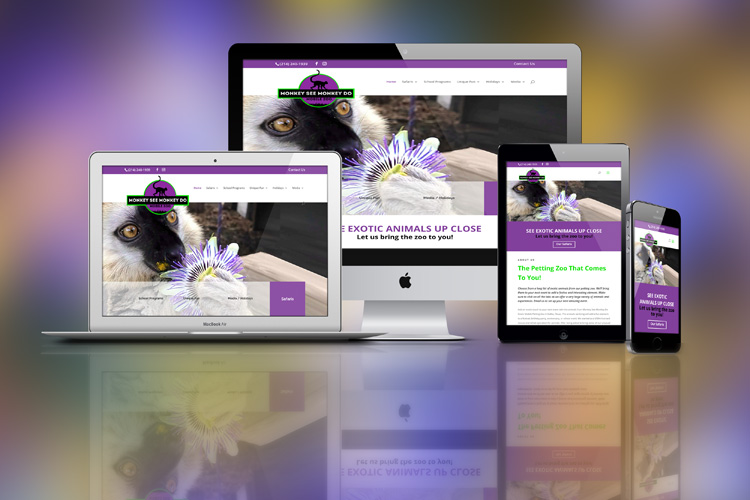 Monkey See Monkey Do Exotic Petting Zoo
Web design
·

SEO
Our local city has a Facebook page called "All About Anna". Occasionally someone will be in search of a Graphic Design professional for business advertising media such as: logos, business cards, folders, brochures…etc. Recently, I was suggested by a number of friends and past clients to bid on a website upgrade project for a mobile petting zoo company that was in search of a website designer. Oh, boy was this a fun project! The client had a ton of great images and was one of the best content providers I have ever worked with.
NIKI FLORES / SHAWN SHANNON
OWNERS, Monkey See Monkey Do Exotic Petting Zoo
We got a notice from our account representative at webdotcom that we needed to rebuild our entire website on their new platform in order to stay relevant as a business website for a low fee of several thousand dollars. As small business owners, we opted to see what our options were before giving in to their demands. We posted on a local Facebook group for recommendations, and Steve Finnerty at TriCity Graphic Design reached out with very specific details of what he could offer us. He did not disappoint! From our initial meet and greet, Steve performed every step of creating a new website for us with transparency, professionalism, personality and with language a tech challenged person like myself could understand! He was extremely supportive throughout the content writing process, offering examples when needed and flexible when I requested changes. He even handled the cancelation process with webdotcom and transferred our domain on our behalf, removing the hassle and headaches from us. Traffic to our website has increased tremendously, leading to growth in our business. Not only is our new website aesthetically pleasing, it is also user-friendly and highly effective. Steve also took the time to coach us through how utilizing social media with our website will have an even greater impact. I have never been more impressed with a process and finished result than I am with Steve Finnerty and TriCity Graphic Design. Thanks, Steve!